#trademark
In June, I participated in the staff and family trip for the first time in four years at Hotel Indigo Inuyama Uraku-en, and enjoyed a dinner and a stay at the hotel for a long time.
The next day, I wanted to stop by Inuyama Castle Town to eat and walk around, but it was a very hot and humid day, so I gave up. As I was thinking of buying something tasty to take home, I noticed that many people I passed on the road were carrying the same paper bag. I searched for "COCOTOMO BAUM" written on the paper bag, which had a colorful and impressive design, and found that it was a baumkuchen from a store called "COCOTOMO FARM" located near the entrance of Inuyama Castle.
The Inuyama Castle San-no-maru store we stopped by had a well-designed interior with white as its base color, a baumkuchen display, and a drink store, where we could sample the baumkuchen and enjoy free tea, making it a perfect place to stop by for a break.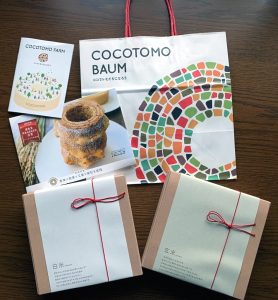 According to the booklet that came with the baum and their website, "Cocotomo Farm" is a rice farmer in Inuyama City, Aichi Prefecture, and they produce and sell their signature product, "Cocotomo Baum," a gluten-free baumkuchen made of 100% homemade rice flour. The president of the company, who himself has a developmental disability in the gray zone, is promoting various initiatives to increase the number of places where people with disabilities can work by making the most of their characteristics, developing their abilities in the right places, and aiming for economic independence.
I came across this store by chance, but knowing that there is such a company in my hometown Aichi Prefecture made me want to buy a baum and support them.
The "COCOTOMO BAUM" and "COCOTOMO FARM" designs on the paper bag and booklet are registered trademarks.
(Japanese Registration No. 6375138 and No. 6392022)
The white rice soft baum I bought for home was very tasty, moist and gentle. I would like to try the brown rice hard baum next. It will keep for a long time at room temperature, so it will be good for a small souvenir. (Cacao)