#design
#patent
#trademark
#utility model
Recently, I have come across a device called a massage gun (or power gun). As the name suggests, a massage gun is a type of massage device that is shaped like a gun and whose tip vibrates at high speed.
I was a little curious about it because I heard that it can help relieve stiff shoulders and back pain as well as take care of muscles. I had a chance to try it out and was very pleased with how it felt, so I bought it.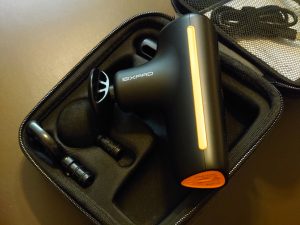 To use it, simply press the tip of the power gun lightly against the area of the body you want to relieve. The SIXPAD Power Gun from MTG Corporation, which I purchased, allows you to adjust the vibration speed of the tip in five stages, from about 1,800 rpm (revolutions per minute) to about 3,000 rpm. When I first used it, I was surprised at the speed and power of the vibration. The tip attachments, such as U-shaped and ball-shaped ones, can be changed to suit the part of the body being used, and I feel that the vibrations reach deep into the muscles very well. I use it when I have stiff shoulders or when I feel muscle fatigue after exercise. I recommend it to anyone who is similarly concerned.
MTG Co., Ltd is a company located in Nagoya City, Aichi Prefecture, Japan. If you search for "MTG Co., Ltd" on J-PlatPat, a great number of patents, utility models, designs, and trademarks will hit. Also, 21 trademark were hit for "SIXPAD". (Syszo)
SIXPAD Power Gun Website (Japanese)
https://www.mtgec.jp/wellness/sixpad/products/powergun/