#design
#intellectual property
#patent
#trademark
#utility model
One of the stores I like to stop by regularly is MUJI. While I have a variety of favorite products, I was able to buy the pre-ordered "Fuku-Can (Fortune Can)" for the first time last year, which I had been curious about for a long time. This year, I won the lottery and was able to buy one.
The "Fuku-Can" has a gift card with an amount equal to the purchase price (2,022 yen this year) and Japanese lucky charms in it. There are cute and interesting lucky charms in the can, and it's fun just to look at the enclosed flyer that introduces them on both sides. It is also an opportunity to become familiar with Japanese culture rooted in the region.
This year marks the 10th anniversary of Fuku-Can, which was launched on New Year's Day 2012 with 14 kinds of lucky charms from four prefectures in Tohoku, with the intention of supporting Tohoku's recovery from the earthquake.
"CREATIVE IMAGINATION" exhibition was held at ATELIER MUJI GINZA in Ginza to celebrate the 10th anniversary the other day. I would have loved to drop by if it was close by.
Now, a search on J-PlatPat shows that there are 94 trademarks that hit the keyword "mujirushi ryouhin". All of them are already registered. A search for the company name "Ryohin Keikaku" shows 224 trademarks, 368 designs, and 40 patents and utility models, indicating that the company is making extensive use of intellectual property.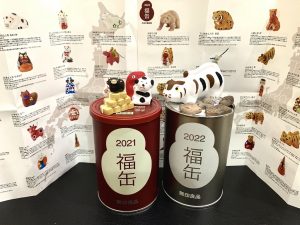 The photo shows the lucky charms that were included in last year's and this year's Fuku-Can. (I bought two of each).
From left to right, Kyoto City's "Kyoto Ceramic Doll Koban (Ox)," Iwaki City, Fukushima Prefecture's "Fukutaro," Setouchi City, Okayama Prefecture's "Oku Hariko (Tiger)," and Tamana County, Kumamoto Prefecture's "Mud Mask (4 pieces).
The cans can also be used as pen holders, and I'm sure I'll be collecting them every year♪ (Cacao)