#Geographical Indication
#GI Mark
#trademark
Hello, this is Hiro.
The other day, we had grilled chicken on a barbecue stove. On the bag of charcoal "Iwate Kirizumi" that we used at that time, there was a trademark registration number (No.1665789) and a GI Mark/Geographical Indication registration number (No.66) in Japan.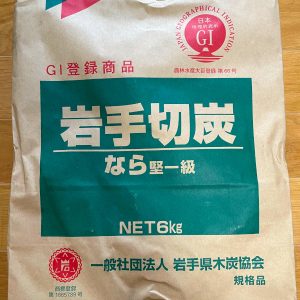 According to the public notice of the registration of the Geographical Indication "Iwate Kirizumi" (No.66), ""Iwate Charcoal (Iwate Kirizumi)" is black charcoal produced in Iwate Prefecture using logs grown in the prefecture. While the carbonization temperature of common domestic black charcoal is 400 to 700 ℃, "Iwate Charcoal" is produced at a higher temperature (approximately 800 ℃)." Iwate Charcoal" has a high carbon content of approximately 90%, which minimizes smoke, flames, and odor during combustion, and leaves little ash after burning.".
Indeed, the smoke, flame, and odor from the charcoal after it is lit are less than those of other charcoals we have used in the past, and thanks to this, we were able to enjoy our yakitori in comfort. The yakitori grilled over charcoal was well cooked inside and the slightly charred sauce was very savory and tasty.
Under the Geographical Indications (GI) protection system, only products that meet the registration requirements are allowed to use the "Geographical Indications (GI Mark)", which means that only products (goods) that protect quality can be distributed in the market. Consumers who are concerned about the quality of products can rest assured that they can choose products that bear the "Geographical Indications (GI Mark)" label.
Reference(Japanese):Geographical Indication (GI) Protection System –Ministry of Agriculture, Forestry and Fisheries of Japan–