#trademark
Like many people nowadays are absorbed in the big boom of manga and animation "Demon Slayer: Kimetsu no Yaiba", my child is not an exception. The other day, she heard from a friend of hers that a Kimetsu-ish cloths were on sale in the handicraft store in our neighborhood, and she asked me to take her there, so we went.
It is an old-fashioned handicraft store, but they were very busy because of the boom of handmade masks. As my daughter had been told, several types of Kimetsu-ish cloths were being sold near the entrance. A few years ago, it only looked like a lattice pattern, but now when you look at the green and black lattice patterns, it reminds you of Tanjiro, one of the characters from the manga. I think it is a wonder of human brains' perception to associate things that way.
My child likes Shinobu Kocho, another character, but I could not find Shinobu-motif cloth, so I asked the shop assistant and she said, "we have classic patterns, but something with a characteristic pattern probably won't come in due to copyright issues". My child was disappointed. In the end, she bought a cloth with a pattern with the look of Nezuko-motif with her own pocket money, and she's been playing with it by putting them on. (See photo)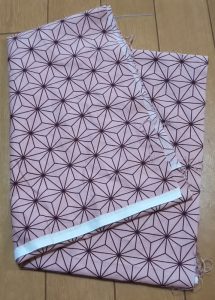 The publisher, Shueisha, has recently applied for a series of Kimetsu-related trademarks such as character names and phrases that appear in manga. In addition, the trademark applications for patterns used on jackets and kimonos of six characters, Tanjiro, Nezuko, Zenitsu, Shinobu, and Rengoku are registered. (Applications filed on June 24, 2020)
These can be seen by searching for the applicant "Shueisha Co., Ltd." in the "Trademark Search" of J-PlatPat. Due to the time lag, only the gazette is currently available, but within a few weeks you will be able to see it in the application and registration information search. It is easier by narrowing it down with application date or publication date.
Personally, I expect that the application for the six pattern designs will be divided by the JPO. I would like to pay attention to the future of the examination.
By the way, I like Giyu-san and Zenitsu-kun. (Marron)
* " Demon Slayer: Kimetsu no Yaiba " is a trademark of Shueisha.