#trademark
The other day, I bought a matchbox as a disaster prevention goods.
I don't usually have a chance to use them, but when I look at them again, I find the illustration of the matchboxes to be unique and wonderful.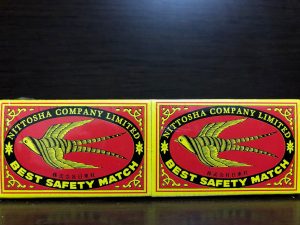 In the past, matches were often used as advertisements in stores, and we often saw cute matchboxes with elaborate designs. The original design by the manufacturer without advertisements creates a retro atmosphere, and it seems to be collectible item for enthusiasts.
It is understandable that enthusiasts collect them. (Time)
●Registered Trademark
Japanese Registration No :5965612
Registration Date: July 21, 2017
Owner :Nittosha Co., Ltd.