#trademark
At this time of year, outdoor recreation requires protection against heat stroke.
Drugstores sell a variety of cold products.
Derived from sweat wipes, there are also face sheets and body sheets that feel cool, and even larger ones are sold under the product name of "towels".
Each product has its own unique flavor, with a different product name or package illustration to appeal to the consumer's eye in order to make them feel the coolness more.
For your reference, here is a picture of a product called "Gokkan Towel" with a cute illustration.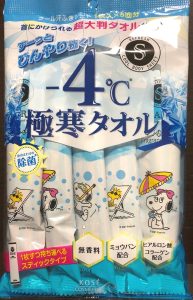 This summer is said to be hotter than last year, and we should take measures against heat stroke by making good use of such sheets. (Time)
Registered Trademark
Owner: KOSÉ Co., Ltd
Japanese Registration: No. 6380459
Registration Date: April 21, 2021