#trademark
Otsukimi (Moon Viewing) will soon be upon us.
Otsukimi is an event held on the most beautiful day of the year, and the date is different every year according to the calendar. This year (2023), it will be held on September 29 (Friday).
The reason why the autumn moon is the most beautiful of the year is because there is less water vapor in the air, the moon appears clearer, and the height at which the moon is visible is just right.
During "Otsukimi," people appreciate the "Mid-Autumn Moon" while giving thanks for the harvest and praying for a good harvest.
The other day, I found a box of Japanese sweets with a cute design associated with "Otsukimi". It is "Sasaragata Tsukimi," a new product from Ryoguchiya Korekiyo, a long-established Japanese confectionery in Nagoya.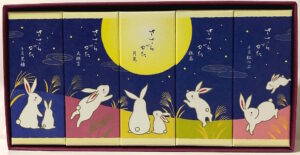 The box of five pieces is decorated with a full moon, a rabbit, and a Japanese pampas grass, depicting rabbits looking up at the big full moon in the night sky and moon-watching (otsukimi). (Time)

Registered trademark:
Standard character trademark: Sasaragata
Japanese Registration number: No. 5528598
Date of registration: October 19, 2012
https://www.j-platpat.inpit.go.jp/c1800/TR/JP-2012-028325/E50EC86B647DBB4719B95C4B948BABA589C69DE91E8C4FFF3A247D049AC633B5/40/en