#trademark
In summer, I have an urge to eat something that is spicy. We stock " Karakara Fish Ramen (Karakarauo) " cup ramen at our house so that we can eat it whenever we want.
The word " Karakarauo " comes from the menu name " Karakarauo Ramen," which is the name of the ramen shop "Mendokoro Inosho" located in Tokyo,Japan (*). "Karakarauo Ramen " is an intensely spicy ramen with a pork bone-based ramen topped with red powder mixed with chili pepper and powdered dried bonito. "Karakarauo "'s cup ramen is supervised by "Mendokoro Inosho" and manufactured and sold by "Sugakiya Foods."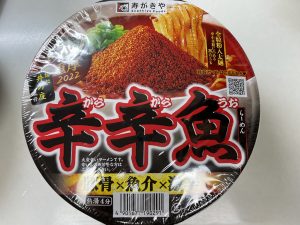 I'm a spiciness-resistant person, but this cup ramen is quite spicy, so I prepare a drink to neutralize the spiciness and a towel to wipe the sweat, and prepare everything before I start eating it. It's impossible to eat completely with half-hearted attitude, but it's not only pungent, but also pungent including delicious taste sensation, and I'll want to eat more naturally after a while.
I would like to get through this summer with " Karakarauo ".
*They also have a branch in Nagoya,Japan.
" Karakarauo " was registered as a trademark on November 11, 2016 (Japanese Registration No. 5896486).
(Sakuramochi)