#trademark
Earlier this month, I went to see the training ships "Nippon Maru" and "Kaiwo Maru" that entered the port of Nagoya.
This was the first time in four years that the two ships entered the port at the same time, coinciding with the 70th anniversary of the Nagoya Port Management Association.
I thought it would be spectacular to see the ships with their sails unfurled up close, but I was a little disappointed when I arrived at Nagoya Port to find that there would be no sails unfurled during the port call.
However, even without the sails, it was spectacular!
The Kaiwo Maru was not on display, so I could not see it from the side, but I was able to get a closer look at the Nippon Maru, which is so big that it would be difficult to capture them together in a frame unless you were very far away.
The two ships that stopped at the port are both second generation, the first having been retired and now preserved at the Nippon Maru Memorial Park in Yokohama Port and the Kaiwomaru Park in Toyama New Port, respectively. The Nippon Maru is designated as a national important cultural property.
A search on J-PlatPat yielded several hits for the trademarks "Sailing Ship Nippon Maru" and "Kaiwo Maru". They are owned by a foundation that operates and manages the park that preserves the first sailing ship.
Unfortunately, the sky was cloudy, but it was neither too hot nor too cold, just a nice day to enjoy the sea breeze.
The Nagoya Marine Riders, who came to watch the Nippon Maru from the ocean side, also made an appearance. (Cacao)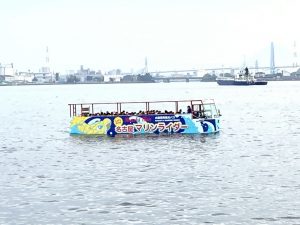 JMETS (jmets.j-server.com)
How to get to the English page of the website
Click on the link (this will open the Japanese website)
Click "Foreign Languages" on the top left
Choose the language (English)
English – 帆船日本丸・横浜みなと博物館 (nippon-maru.or.jp)
Guide to Kaiwomaru Park|海王丸パーク