#trademark
 The other day, I went to an event called "Let's learn about assistance dogs". which was held at a commercial facility in my neighborhood.
When you think of "Dogs that support people", you may have a strong image of guide dogs, but service dogs support people with physical disabilities, and hearing dogs support people with hearing disabilities.
 At the event, booths for guide dogs, service dogs, and hearing dogs were set up in a large commercial facility, and each dog demonstrated how they support people.
 At the guide dog booth, visitors could experience walking with a guide dog, and I participated in it.
I participated in a series of movements, such as "putting on an eye mask, walking straight, making a U-turn, and sitting on a chair", but it was difficult to maintain a proper distance from the guide dog, and I sometimes moved too far away and sometimes too close.
I was impressed by the harmonious walking that I see on the street between guide dog users and their guide dogs, which is the result of a lot of practice and a trusting relationship between them.
 At the event, goods were sold, and I bought the cookies shown in the photo.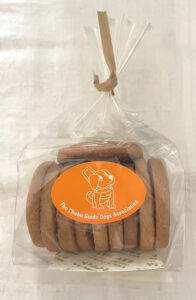 "The dog looking up" on the orange sticker is called "Ai-chan", and the Ai-chan mark was registered as a trademark for the designated service "teaching knowledge about eye dogs" on March 18, 2011 (Japanese Registration No. 5400234).
I would like to collect various goods with the Ai-chan mark from this time as feelings of support. (Sakuramochi)
Chubu Guide Dog for the Blind Association:http://www.chubu-moudouken.jp/
Japan Assistance Dogs Association:https://s-dog.jp/english
Japan Hearing Dogs for Deaf People:https://www.hearingdog.or.jp/index.php?f=hp&ci=10289&i=10286
Ai-chan's mark(Japanese Registration number T5400234):https://www.j-platpat.inpit.go.jp/c1800/TR/JP-2010-078746/C9BB55A100809B47EA22F1BDC970E6C8A68B5B124C45A7A56B0F96906AB73C5C/40/en