#trademark
This is Swimmer. This is another Hokuriku story.
When I visited Toyama Prefecture, I bought these sweets as a souvenir.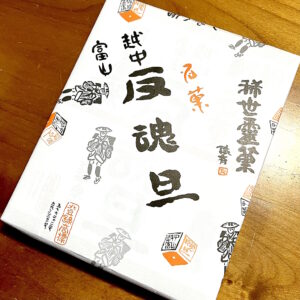 I was very interested in the design of the wrapping paper, which had a trademark registration number blended into the design in a cute way, and it was a very interesting gift so I picked it up.
It is a very casual and eye-catching way of asserting the right to use the trademark.
Mitsuya Corporation Hankontan
https://www.j-platpat.inpit.go.jp/c1800/TR/JP-1960-026872/2F99BCDA77B870542CFA25CF779804849C728A7FB45D45655A43ACE3F2231CB0/40/en
https://www.j-platpat.inpit.go.jp/c1800/TR/JP-1958-021282/03561336DC7912C5C68F75FDC5A5F719F399260CA7D1FBB31DF6AB69CADABD0D/40/en