#trademark
Caramel is a popular flavor of popcorn, but sometimes I feel like eating caramel itself.
When I think of caramel, the yellow box of "Morinaga Milk Caramel" comes to mind.
The design of the box is interesting to look at because of its history, but when I bought it after a long time, I found that the package had become a "3D art" package that could be enjoyed.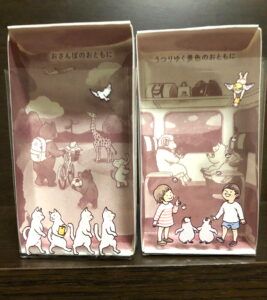 Pictures of people and animals are printed on the outer film, which is superimposed on the background printed on the inside of the box to create a space with depth.
It is a simple but exciting device. Hats off to a great idea.
This package won the Bronze Prize in the confectionery category of the "Japan Package Design Award 2023" in 2022. (Time)
Japanese Registered Trademark
Registration number: No. 89075
Registration date: November 6, 1917