#trademark
Last Christmas, I bought Juchheim 's "Der Baumkuchen" as a gift for my family.
I had been interested in it for a long time but never had a chance to buy it, but I happened to see it on a TV program and decided immediately to buy it for Christmas this year!
The outer box is Christmas-specific and cute.
The Der Baum, with its attractive bumpy mountain shape, is said to be baked using the same recipe and production method as in the past. As you can see from the names of the ingredients in the images, they do not use vegetable fats such as margarine and shortening, but use butter and no food additives such as expanders, and are made using only natural ingredients, showing their strong commitment to making safe and secure sweets.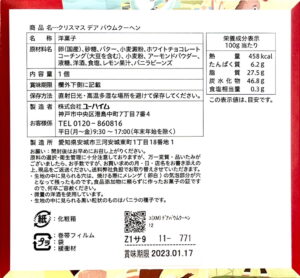 The head office is located in Kobe City, but the central factory is actually located in Anjo City, Aichi Prefecture.
I first learned that Juchheim 's confectionery was adopted as a tax return gift from Anjo City.
It has been 100 years since Karl Juchheim, the founder of Juchheim, decided to settle permanently in Japan and opened the first Juchheim store in Japan in Yokohama. In 2009, the 100th anniversary of the company's founding, a trademark application was filed for the Juchheim logo, including "SEIT 1909" printed on the outer box, and a design that appears to represent the bumpy surfaces of a Der Baumkuchen. (Japanese Registration No. 5299158)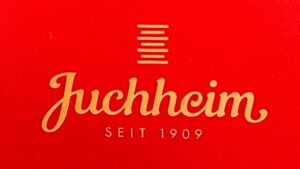 I ate too much cake and chicken for Christmas, so it will be a little while before I can enjoy Der Baum with my family. I am very much looking forward to it♪ (Cacao)
The History of Juchheim | Juchheim
Juchheim Der Baum (L) – Details of the gift – Satofull (satofull.jp)