#trademark
Last weekend I visited Himaka Island in Aichi Prefecture with a friend. It's about an hour drive from Nagoya and you can reach Himaka Island in about 10 minutes by high-speed boat from Morozaki Port.
It is close to Nagoya, so it is an enjoyable one-day trip, and I felt like I had taken a trip even though I was within the prefecture.
I bought some "Himaka Island Island Seaweed" as a souvenir for my family. "Himaka Island Island Seaweed" is a seaweed sold by the Himaka Island Fishery Cooperative Association, and its package is a registered trademark (Japanese Trademark Registration No. 4481826).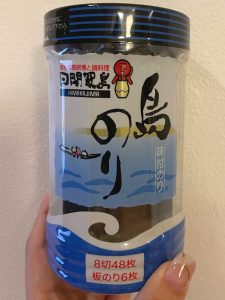 I would like to visit the island again in a different season, as it is close to Nagoya and fresh seafood can be enjoyed all year round. (Rabbit)
Reference:
Himaka Island Sightseeing Navigation (Japanese)
https://www.himaka.net/
Himaka Island Fishery Cooperative Association (Japanese)
http://jf-himakajima.com/