#patent
In the Intellectual Property industry where we are, patent application, design registration application, trademark registration application would come to our mind when we use the word "application". However, in the general society, many people may think of the procedure of mailing the application forms and surveys to take an examination for high school or university. Recently, Internet applications have become more common in applying for entrance examinations.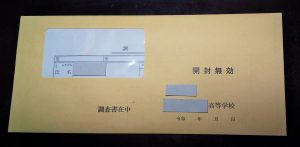 Under such circumstances, the invention "Matching method of application data and survey report data", which focused on improving the business of sending the survey report of the examinee from the entry school to the applying school and accepting the survey report, was registered last year in June and August. It was registered as Japanese Patent Registration No. 6715423 and Japanese Patent Registration No. 6752480 (Patent holder: At System Co., Ltd.) With these inventions, it is possible to shorten the working hours of teachers and school clerical staff, as well as preventing data entry errors during transcription work.
From the viewpoint of patent application procedure, it is noteworthy that these two patent applications are subject to the exception of loss of novelty for the presentation before filing and for request for accelerated examination. Therefore, Japanese Patent Registration No. 6715423 was registered in about 7 months after filing, and Japanese Patent Registration No. 6752480 was registered only in about 4 months after filing. According to the patentee's homepage (URL below), it seems that the system has already been adopted by many schools.
The examination season is coming soon. If any of the students who are viewing this blog are taking the exam, be careful of your physical condition and do your best. (Conan)
https://www.atsystem.jp/
(At System Co., Ltd. Homepage (Japanese))
https://www.ckip.jp/top/
(Website for Internet application system, school operation support system (Japanese))