#trademark
Recently, I've had my new glasses made for desk work.
After consulting with a shop assistant, I chose glasses of the inhouse brand called "Cotori".
The registered trademark logo and attached illustration match the brand concept of "heart-tweeting lightness" and I felt it was easy to imagine the characteristics of the glasses because it properly expressed them.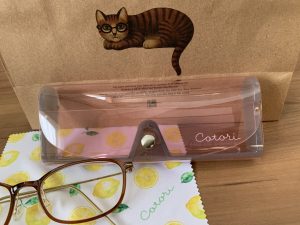 I was thrilled to get new glasses that look and feel light.
The special case and the wiping cloth that came with the glasses as gifts are also wonderful ♪
Even though I took a long time to make various requests, the shop assistant said, "I enjoyed making them." and I was able to leave the store with a better feeling. (Cacao)
●Japanese Trademark Registration No.6259543 (J-PlatPat)
●Cotori brand shop (Japanese only)