#trademark
Hi, I'm Hiro.
My children often play with a toy called "MAGNA-TILES".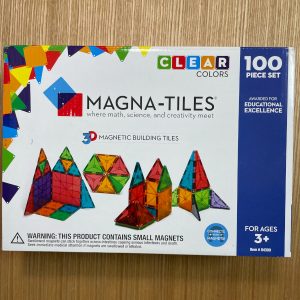 Each side of the square or triangular plate has a magnet, and by attaching the sides together, you can make various shapes, flat or three-dimensional. The magnetism is not too strong and not too weak, but just the right strength so that even children with weak hands can easily attach and remove the magnets.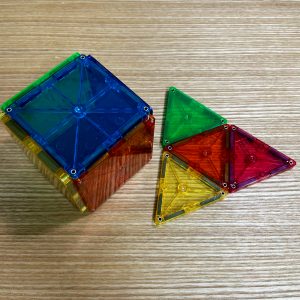 On the right side of "MAGNA-TILES" on the package, there is a mark (circled R) indicating a registered trademark.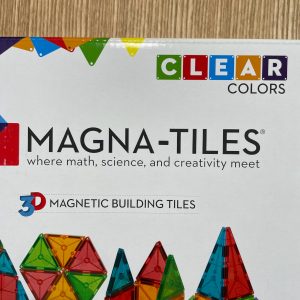 Since "MAGNA-TILES" is a U.S. product, I checked the USPTO (U.S. Patent and Trademark Office) TESS (Trademark Electronic Search System) and found several registrations for the character trademark "MAGNA-TILES" (US Registration numbers: 2654320, 5622354, 6247284, 6323690).
Of these, the one with the registration number 2654320 was registered for "Manipulative toys, namely, blocks and puzzles" as Designated Goods and Services, with an application date of February 6, 2002 and a registration date of November 26, 2002. The current owner of the trademark is MVW HOLDINGS, INC.
"I checked J-PlatPat to see if "MAGNA-TILES" was registered as a trademark in Japan, and found that it was registered under Japanese Registration number 5816110. The designated goods or services here are "educational toys, block toys, building blocks (toys)," with the application date is July 2, 2015, the registration date is December 25, 2015, and the trademark holder is People Corporation (Tokyo, Chuo-ku).
Further research revealed that MAGNA-TILES is the U.S. version of an educational toy called Pythagoras, which People Corporation began selling in Japan in 1992 (MVW (formerly Valtech) began selling it in 1997) (People Corporation: ピタゴラスとは?)
The trademark "Pythagoras(ピタゴラス)" was applied for in Japan by People Corporation, Ltd. on December 25, 1991, and registered on May 31, 1995 (Japanese Registration number: No. 2707566).