#trademark
 The other day I found a registered trademark on a package of chestnuts. Fukuguri are sweet roasted chestnuts.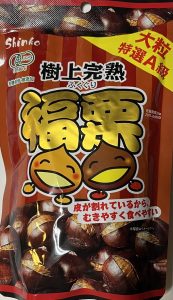 I enjoyed eating these roasted chestnuts on their own and as Mont Blanc cake.
The roasted chestnuts I have had so far have been chestnuts with all the skin on and without the skin. Chestnuts with the skin on have flavor. However, if the chestnuts have the skin all over them, it takes time to peel the skin off, and it is very hard to get your hands dirty.
As stated on the package, these roasted chestnuts are easy to peel because the skins of the roasted chestnuts are cracked. They are also easy to cook and eat. (Raspberry)
"Fukuguri Chestnuts"
Owner: Shinko Trading Co. , Ltd.
Japanese Trademark Registration Application: No. 2011-64660
Registration Date: March 30, 2012