#trademark
When I visited Mie Prefecture the other day, I bought "Unemenagon", a famous confectionery in Yokkaichi.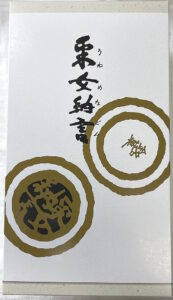 It is made and sold by "Nagamochi Sasaiya Co., Ltd." in Mie Prefecture, which is famous for "Unemenagon" a type of rice cake with a water wheelhouse inside, and filled with sweet bean paste and gyuhi.
The combination of the delicate monaka, which crumbles when eaten, the generous amount of sweet bean paste, and the soft gyuhi is the best.
The filling is so rich that you will be satisfied with just one piece, but after a while you will want to eat it again.
The "Unemenagon" trademark was registered on March 6, 2009 for the designated product "confectionery and bread" (Japanese registration No. 5211846). (Sakuramochi)