#design
Partial design is one of the effective means for applying for design registration.
By using the partial design system, the scope of rights can be the shape, pattern, color, etc. of only the part of the entire article that is to be registered as a design.
The part other than the part for which the design registration is to be received is also called the "disclaim part".
In the drawing, for example, the part to be registered as a design is drawn with a solid line, and the disclaimed part is drawn with a broken line.
When filing a color drawing, you can also color-code the disclaimed part to identify it.
For example, the "sanitary mask" disclosed in Japanese Design Registration No. 1540049 (design right holder: Kowa Co., Ltd.), the position, shape, and size of the pleats (folds), welded parts, mesh seals, etc. of the mask body are partial design registered.
On the other hand, the part of the ear strap shown by the broken line is disclaimed. (The names in the figure have been added by the author.)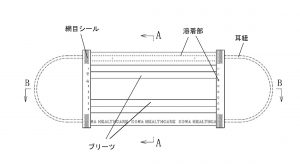 Therefore, even if a third party implements a mask with the shape of the ear strap changed for the registered design, it will be an infringement if the shape of the mask body is similar.
The mask corresponding to this registered design is commercially available as a "three-dimensional mask". (Conan)