#trademark
It is the end of the year.
In 2022, I ate various snacks, both Japanese and Western, and I would like to introduce the one that left the greatest impression on me.
It is the "Zunda Shake" from Zunda Saryo, which is run by Sendai-based Kasho Sanzen Co., Ltd.
Zunda Shake is a sweet vanilla shake mixed with Zunda (mashed edamame beans). It is said that many people are captivated by this exquisite combination.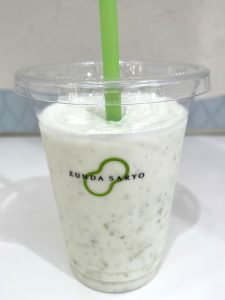 I have been wanting to try it for several years but have never had the chance, but I finally had the chance to drink it at the Great Tohoku Exhibition held at JR Nagoya Takashimaya in November this year.
Zunda Shake was as delicious as I had hoped it would be over the years, and I downed it in no time at all. (A few days later, I went back to buy some more…)
I hope to have another such delicious encounter next year.
The trademark in the photo, consisting of "a figure of edamame (*)" and "ZUNDA SARYO," was registered on October 22, 2004 for the designated service "provision of food and drink" (Japanese Trademark Registration No. 4812488).
* The graphic portion is yellowish green in the photo, but is represented in yellow in the registered trademark.
(Sakuramochi)